Meeting Schedule
We hold Two meetings each month on the first and third Wednesday of the month. For April 2022, our meeting will be on April 6th and April 20th. All meetings are both 'in-person' and Virtual. The platform for the virtual meeting is "Zoom" where a meeting ID and Passcode are required. The Zoom sign-in link changes with each meeting, so please send GK Chris Kelley an Email at: chris081476@gmail.com or call him at 724-799-0249 to be added to the invitation list.
All federal/state requirements for Masks and Social Distancing will be followed.
Come join us for the Rosary at 7:30pm each meeting night followed by the Meeting at 8:00pm.
The "In-Person" Meeting Location (across Route-19 from Saint Alphonsus/Patron's):
Wexford Professional Building II:
Suite 2308 (Third-Floor)
11676 Perry Highway

Wexford, PA 15090
Enter from Rear onto 2nd-floor, take stairs/elevator to 3rd-Floor for meeting. Look for Room: 2308.
Our Lady of Olives Council #3907 <> Council Calendar <> June 26, 2022 – September 3, 2022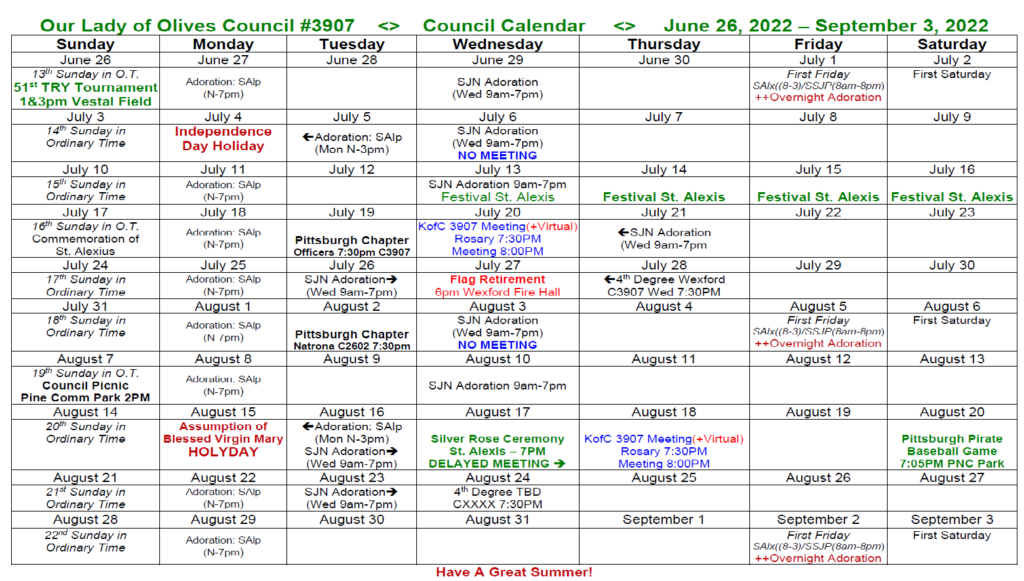 Council Picnic – Save the Date Info Saturday August 7, 2022 2PM @Pine Township Community Park
Joe Daquelente has announced that He and His Committee have reserved the Keys Pavilion, at the Pine Community Park, (by the Basketball Courts) for our Council Picnic on Saturday August-7th. The Time for our Picnic will be from 2:00PM. "till all are tired and ready for a nap". Please mark your Calendars now and let you friends, kids, grandkids, etc. know so they can reserve this date as well. Food and drink will be provided by the Council. Small salads or a dessert are always welcome.
RSVP to: JoeDaq@zoominternet.net, or (412-585-3133)