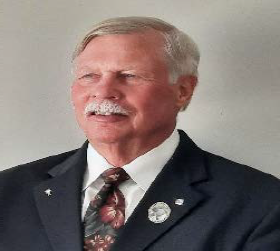 Brothers,
Once again, our Council is "passing the baton" in the form of the "meeting gavel" to a new team of leaders with myself humbled to be elected as Grand Knight. Chris Kelley, our PGK, has left such large shoes to fill. Over his two-year term he has led our Council thru the confusing time of Covid, not letting this stop us in achieving many awards and recognition's. Under his leadership, his team of brother Knights and Council Officers helped us have a major impact on the people and charities in our area. I look forward to having Chris' Mentor-ship and exploiting his Friendship as I begin my duties as GK.
Now with Summer upon us, it's time to look ahead to the upcoming fun time with our family and friends, and Brother Knights. During these fun times, please don't forget the upcoming events connected with our Council, our Faith, and our Churches. As you will note in this Olive Branch, our Council has several events planned during the summer. Please participate when you can, it will help keep our fellowship strong. July 4th is almost here, please remembered and pray for our Country's Leaders and the Founders who risk everything to get us started as a nation. Our Council will be handing-out small American Flags at St. Alphonsus July 2nd and 3rd, please look for our Knights as you go out of Church following the Masses there. In August we have the Summer Picnic and Pittsburgh Pirate Game. Several of our Churches also have summer Festivals coming up. Look into the pages following for more details. Closer to our Council, the Silver Rose Ceremony will be led by our Chaplain Father Will at St. Alphonsus July 20th and don't forget the Feast of the Assumption of the Lord, August 15th.
During July and August, we only have one meeting per month, but any Council Officer can be contacted should something come up that need's attention between meetings. July's meeting will be held on July 20th. The meeting in August will move from the traditional 3rd Wednesday to accommodate the Silver Rose Ceremony, the exact time will be posted following our meeting in July. Both meetings will begin at 8PM. Many of our members attend a little earlier, to pray the Rosary at 7:30pm. All meetings are "hybrid", both In-Person and Virtual via Zoom. To join us remotely, just email Chris Kelley chris081476@gmail.com or call him at (724-799-0249) to get the Zoom link in an email. All members are welcome to attend.
As You enjoy the summer, look around for neighbors or friends who would make a good member Knight, and ask them to join our Council. Get more involved in our activities when and where you can. Help us to stay a vibrant and healthy organization, supporting our Church and Community.
I am looking forward to take on the challenge which is the roll of Grand Knight. I ask and pray that you will help us all be successful. May God look after us this summer and beyond.
Have a great summer!!!!
Vivat Jesus!
George Franz
Grand Knight